Main content starts here, tab to start navigating
Menus
Slide 1 of 3
Slide 2 of 3
Slide 3 of 3
Starters
Cheesesteak Egg Rolls

Housemade served w/ Thai Chili Sauce

Thai Chili Sauce

Buffalo Chicken Egg Rolls

Housemade served w/ Blue Cheese, Celery

Chicken Wings of Fire

Blue Cheese, Celery Sticks other flavors Thai Chili - Garlic Parmesan - BBQ

Crispy Calamari

Marinara Sauce, Lemon

Cheese Quesadillas

Onions, Peppers, Jalapenos

Mac & Cheese Squares

homemade cheese sauce

Loaded Mac & Cheese

Bacon, Caramelized Onions

Buffalo Chicken Mac & Cheese

Crispy chicken, Ranch Drizzle

Crispy Mozzarella Sticks

Crispy Mozzarella Sticks with Marinara

Chicken Tenders

Honey-Mustard Dipping Sauce

Ultimate Nachos

Beef Chili, Cheddar-Jack, Jalapeños, Onions, Tomatoes

Appetizer Sampler

Chicken Tenders, Mozzarella Sticks, Chicken Wings, Bacon, Cheese Potato Skins

Spinach & Artichoke Dip

Served with Tortilla Chips

Soups of the Day

Made from scratch by our chefs daily

Cup

Bowl

French Onion Soup

Swiss, Herb Crostini

House-Made Beef Chili

Onions, Cheddar-Jack Cheese, Pita
Tacos
Served with Rice, Beans & Fried Sweet Plantains
Pulled Chicken Tacos

Onions, Cilantro, Lime, Crema, Pico de Gallo

Bang Bang Shrimp Tacos

Crispy Shrimp, Chipotle Aioli, Lettuce, Tomatoes, Onions

California Fish Tacos

Grilled or Crispy Cod, Cabbage, Cheddar-Jack, Pico de Gallo, Guacamole

Grilled Steak Tacos

Mozzarella, Onions, Cilantro, Lime, Crema
Specialty Sandwiches
Served with Homemade Potato Chips
Sliced Steak Sandwich

Sautéed Onions, Sautéed Mushrooms, Provolone on Garlic Bread

Chicken Chipotle Club

Cheddar, Bacon, Lettuce, Tomatoes, Chipotle Aioli

Chipotle Crispy Shrimp Wrap

Avocado, Cheddar, Lettuce, Tomatoes, Onions, Chipotle Aioli

Chicken Sicilian

Crispy Breaded Chicken, Marinara, Mozzarella

Southwestern Crispy Chicken

Avocado, Lettuce, Tomatoes, Chipotle Aioli

BBQ Pulled Pork

Shredded Pulled Pork, Cheddar

French Dip

Thin Sliced Roast Beef, Mozzarella, Au Jus

Philly Cheesesteak

Sliced Sirloin, American, Caramelized Onions

Beef Gyro Pita

Onions, Tomatoes, Lettuce, Tzatziki

Buffalo Crispy Chicken Wrap

Blue Cheese, Romaine, Tomatoes, Potatoes Chips

Chicken Caesar Wrap

Grilled Chicken, Romaine, Caesar, with Potato Chips

Turkey Dijon Wrap

Turkey, Swiss Cheese, Bacon, Honey Mustard, Lettuce, Tomatoes

Mexican Chicken Panini

grilled chicken, cheddar-jack cheese, avocado, salsa, jalapenos

Italian Chicken Panini

grilled chicken, fresh mozzarella, sun-dried tomato, basil, balsamic glaze

Short Rib Grilled Cheese

cheddar, caramelized onion, rye
Sides
Market Vegetables

Seasoned Curly Fries

Onion Rings

French Fries

Sweet Potato Fries

Mac & Cheese

Grilled Asparagus

Coleslaw

Potato Salad

Mashed Potatoes

Rice Pilaf
Diner Sandwiches
Served with Homemade Potato Chips
Classic Diner Reuben

Corned Beef or Pastrami, Swiss Cheese, Sauerkraut, Grilled Rye Bread

Classic Diner Club

Turkey or Roast Beef with Bacon, Lettuce, Tomatoes on Country White Toast

Albacore Tuna Salad

On Rye with Lettuce, Tomatoes

Classic BLT

thick cut bacon, lettuce, tomato, on country white toast

Grilled Cheese

American on Grilled Country White Bread

Roast Beef | Turkey | Ham

Choice of One, On Rye with Lettuce, Tomatoes

Corned Beef or Pastrami

Served on Rye
House Favorites
Served with Soup or Mixed Green Salad
Goffle Farms Half Chicken

De-Boned, Charcoal Grilled, Sautéed Spinach, Roasted Potatoes

Cajun Grill

Shrimp, Chicken, Steak, Spicy Jambalaya Rice

Chicken Madeira

Madeira Wine Sauce, Mushrooms, Asparagus, Roasted Tomatoes, Fresh Mozzarella, Mashed Potatoes

Grilled Chicken Kebab

Bell Peppers, Onions, Portobello, Couscous, Green Beans, Tzatziki

Beer-Battered Fish & Chips

Atlantic Cod, French Fries, Coleslaw, Tartar Sauce, Lemon

Southern Fried Chicken

French Fries, Coleslaw

Roasted Atlantic Salmon

Thyme Sauce, Roasted Potatoes, Asparagus Hollandaise

Oven Roasted Turkey

Apple Stuffing, Mashed Potatoes, Market Vegetables, Turkey Gravy

Chicken Pot Pie

Baby Peas, Carrots, Celery, Onions, Potatoes, Flaky Crust

Linguini Bolognese

House-Made Meat Sauce, Parmigiano Reggiano

Classic Meat Loaf

Brown Gravy, Mashed Potatoes, Market Vegetables

NY Strip Steak

Baked Potatoes, Market Vegetables

Grilled Pork Chops

Mashed Potatoes, Market Vegetables

Penne Vodka

Creamy Pink Vodka Sauce

Burrito Grande

pulled chicken, onion, pepper, lettuce, cheddar-jack, rice, black beans, avocado, cream, cilantro, hot sauce, served with potato chips

Eggplant Parmesan

layered with melted mozzarella and marinara sauce, served with penne pasta

Pappardelle

beef short rib ragu, cognac-ricotta sauce, shaved parmigiano reggiano

Vodka Chicken Parmigian

chicken cutlet, creamy pink vodka sauce, melted mozzarella, served with penne pasta

Bistro Shrimp

angel hair pasta, arugula, diced tomato, roasted garlic, olive oil
Specialty Burgers
Certified USDA Prime Chuck burgers
We proudly serve our own blend of Pat Lafrieda burgers featuring a combination of ground chuck, short rib, and brisket. Served on Balthazar bakery brioche buns. Served with french fries and onion ring unless noted otherwise. Gluten free buns available +2.00

Half Pound Burger

lettuce, tomato

Avocado Ranch Burger

Avocado, Ranch, Cheddar-Jack, Lettuce, Tomatoes

Bronx Burger

Swiss, Sautéed Mushrooms, Sautéed Onions

Roadhouse Burger

BBQ Sauce, Frizzled Onions, Bacon, Provolone

Brunch Burger

Mozzarella Cheese, Fried Egg, Bacon, Avocado, Mayo

LA Burger

Swiss Cheese, Avocado, Arugula

Cheeseburger Sliders

4 Mini Sliders, American, Pickles, Grilled Onions, Hawaiian rolls

Firehouse Burger

Cheddar-Jack, Jalapeños, Chipotle Mayo, Chili Fries

Southwestern Salmon Burger

Brioche, Avocado, Chipotle Aioli, Lettuce, Tomatoes

Vegan Beyond Meat Burger

Sprouted Grain Bread, Lettuce, Tomatoes

Turkey Burger

Brioche, Lettuce, Tomatoes, Cranberry Mayo Sprouted Grain, Chips, Salsa

Garden Veggie Burger

Brioche, Lettuce, Tomatoes, Dijon Mayo

Texas Chili Burger

beef chili, sharp cheddar cheese, chipotle aioli

Short Rib Burger

hamburger topped with braised short ribs, bacon, cheddar, sauteed onion, and mushroom

Jersey Shore Burger

provolone, taylor ham, jalapeno, sauteed onion
Sizzling Fajitas
Chicken | Steak | Shrimp

Grilled Peppers & Onions, Rice, Cheddar-Jack, Lettuce, Tomatoes, Salsa, Guacamole & Sour Cream with Warm Flour Tortillas
Salads
Classic Greek Salad

Tomatoes, Cucumber, Feta, Red Onions, Kalamata Olives, Grape Leaves, Pepperoncini, Mixed Greens, Grilled Pita

Spinach Cobb Salad

Bacon, Egg, Red Onions, Mushrooms, Avocado, Crumbled Blue Cheese, Balsamic Vinaigrette

Caesar Salad

Romaine Lettuce, Croutons, Shaved Parmesan

Mixed Green Salad

Tomatoes, Cucumber, Red Onions, Balsamic Vinaigrette

All Natural Chicken

Jumbo Shrimp

Atlantic Salmon

Grilled Steak

Roasted Beet & Goat Cheese Salad

spring mix, toasted almonds, balsamic vinaigrette

Super Antioxidant Salad

mixed greens, spinach, kale, avocado, broccoli, grapes, blueberries, onoin, almonds, goat cheese, balsamic vinaigrette

Mediterranean Salad

arugula, tomato, cucumber, beets, garbanzo beans, red onion, feta, whole wheat rusks, red wine vinaigrette

Southwestern Salad

Arugula, Corn, Cilantro, Black Beans, Cheddar-Jack, Avocado, Tortilla Strips, Grilled Chicken, Chipotle Vinaigrette

Buffalo Blue Salad

Buffalo Chicken Tenders, Bacon, Red Onions, Bell Peppers, Tomatoes, Red Onions, Blue Cheese Crumbles, Red Pepper Garlic Ranch

Santa Fe Steak Salad

Mixed Field Greens, Tomatoes, Cucumbers, Red Onions, Green Peppers, Avocado, Salsa, Citrus Vinaigrette

Chopped Salad

Romaine, Tomatoes, Avocado, Asparagus, Bacon, Blue Cheese, Green Apple, Grilled Chicken, Red Wine Vinaigrette

Chicken Waldorf Salad

spring mix, endive, gorgonzola, green apple, dried cranberries, walnuts, Waldorf dressing

Herb Crusted Salmon Salad

romaine, tomato, cucumber, red onion, garbanzo beans, balsamic vinaigrette
Pizza
Cheese Pizza

mozzarella cheese, marinara

Pepperoni Pizza

mozzarella cheese, marinara, pepperoni

Margherita Pizza

Basil, Mozzarella Cheese, Tomato

Meat Lover's Pizza

mozzarella, marinara, pepperoni, meatball, bacon, sausage
Light Start
City Oatmeal

Strawberries, Blueberries, and Toasted Almonds

Country Oatmeal

Dried Cranberries and Walnuts

Fresh Fruit Bowl

An Assortment of Seasonal Fruit

Bowl of Berries

Strawberry and Blueberries
Greek Yogurt Bowls
Classic Energy Bowl

Fresh Seasonal Fruit, Granola, Honey

Banana Bread Bowl

Strawberry, Banana, Honey, Walnuts

Honey Walnut Bowl

Honey, Walnuts
Bread & Breakfast Pastries
Balthazar Cheese Danish

Balthazar Cinnamon Bun

Balthazar Croissant

assorted flavors

Corn Muffin

Bran Muffin

Blueberry Muffin

Pound Cake

Banana Nut Bread

Toasted Bagel with Butter

with Cream Cheese

English Muffin

Gluten Free Multigrain Toast

Organic Sprouted Grain Toast
Cage Free Eggs
Served with Home Fries, Toast | Pancakes Instead of Toast | Gluten-Free or Sprouted Grain Toast
Two Eggs Any Style

Corned Beef Hash and Eggs

Homemade Corned Beef Hash Topped with Two Eggs

Country Breakfast

Two Eggs, Bacon, Sausage, and Virginia Ham

Steak and Eggs

Grilled to Perfection, Two Eggs Any Style

Add ons: Bacon, Ham, Sausage, Taylor Ham, Chicken Sausage, Turkey Bacon, Canadian Bacon, Beyond Vegan Sausage
Egg Specialties
Huevos Rancheros

Two Fried Eggs, Chorizo, Ranchero Sauce on Corn Tortillas, Hash Browns

Cuban Breakfast

Two Eggs Any Style, Chorizo, Sliced Avocado, Fried Sweet Plantain & Rice and Black Beans

Greek Scramble

Feta, Beef Gyro, Tomato, Onion, Pita, Tzatziki, and French Fries

Cali Scramble

Sliced Grape Tomato, Cheddar-Jack Cheese, Avocado, Served with Multigrain Toast, Spring Mix, Salsa, Sour Cream

Original Avocado Toast

Sprouted Grain, 2 Poached Eggs, Salsa, Spring Mix

Eggs Benedict

Canadian Bacon, Hollandaise Sauce

California Skillet

Hash Browns, Onions, Mushrooms, Sausage, Avocado, Sharp Cheddar Cheese, Hollandaise Sauce

Short Rib Hash and Eggs

two eggs any stule, slowly braised angus short rib, caramelizedonion, peppers, mushrooms, served with homefries

Veggie Breakfast Skillet

Home Fries, Spinach, Mushrooms, Red Onion, Quinoa, Ranchero Sauce, 2 Basted Eggs

Texas Breakfast Bowl

scrambled eggs, ham, peppers, onions, sharp cheddar, over home fries, served with salsa, sour cream, jalapeno, and warm flour tortillas
Pancakes
1.6 oz Pure Maple Syrup Available
Buttermilk Pancakes

Dusted with Powdered Sugar

Strawberry Napoleon Pancakes

Sweet Mascarpone Filling, Fresh Strawberries, Nutella Drizzle

Chunky Monkey Pancakes

Chocolate Chips, Bananas, Nutella Drizzle

Funfetti Pancakes

Housemade Funfetti Cake, Rainbow Sprinkles, Whipped Cream

Chocolate Chip Pancakes

Topped with Whipped Cream and Chocolate Drizzle

Oreo Pancakes

Oreo, Whipped Cream, Chocolate Drizzle

Quinoa Pancakes

Multi-Grain, Banana, Almonds, Quinoa

Lumberjack Pancakes

Two Eggs Any Style, Bacon, and Sausage

Multi-Grain Pancakes

Gluten-Free Pancakes

Delicous corn flour based gluten free pancakes
Brioche French Toast
Balthazar bakery brioche bread hand dipped daily in our classic french taost recipe. Add 1.6 oz. Pure Maple Syrup
Brioche French Toast

dusted with powdered sugar

Banana Nutella French Toast

Layered with Bananas and Nutella

French Toast Tiramisu

Layered with Sweet Mascarpone Filling, Strawberries, Bananas, Raspberry Sauce, Chocolate Powder

Healthy French Toast

Whole Grain Gluten Free French Toast, Sliced Strawberries, Blueberries, Toasted Almonds

Oreo French Toast

Layered with Oreo Cookie Icing, Topped w/ crushed Oreos, Chocolate sauce, Vanilla sauce

Gluten Free French Toast
Waffles
Made from scratch daily Served with Warm Syrup & Butter. | Add 1.6 oz. Pure Maple Syrup
Belgian Waffle

Fruit & Nutella Waffle

Strawberries, Bananas, Whipped Cream, Nutella Drizzle

Chocolate Chip Waffle

Chocolate Chips, Whipped Cream and Chocolate Drizzle

Fried Half Chicken & Waffle

Fried Chicken Over Giant Belgian Waffle

Banana Walnut Waffle

Loaded with Banana and Walnuts

Gluten-free Waffle

Add ons: Bacon, Ham, Sausage, Taylor Ham, Chicken Sausage, Turkey Bacon, Canadian Bacon, Beyond Vegan Sausage
Omelettes
Served with Home Fries and Toast | Pancakes Instead of Toast Available | Gluten-Free or Sprouted Grain Toast Available
Wild Western

Mushrooms, Cheddar Cheese, Ham, Bell Peppers, Onions

Chicken Fajita Omelette

Marinated Chicken, Onions, Peppers, Shredded Cheese Topped with Salsa, Guacamole, Sour Cream, Chili Hash Browns

Colorado

Ham, Bacon, Sausage, Cheddar-Jack Cheese

Florentine

Fresh Spinach, Feta Cheese

Alpine

Bacon, Swiss Cheese, Mushrooms, Onions

Mediterranean

Feta Cheese, Spinach, Tomatoes, Onions, Mushrooms

Santa Fe Omelette

Chicken, Jalapeño, Turkey Bacon, Onions, Tomatoes, Salsa, Sour Cream

Body Builder

Egg Whites, Broccoli, Mushrooms, Chicken, Tomatoes, Onions

Italian Omelette

Sausage, Mozzarella, Tomatoes, Mushrooms

Light Omelette

Egg Whites, Mushrooms, Onions, Broccoli, Tomatoes

American Classic

Diced Ham, American Cheese

New York

Smoked Salmon, Onions

Add ons: Bacon, Ham, Sausage, Taylor Ham, Chicken Sausage, Turkey Bacon, Canadian Bacon, Beyond Vegan Sausage

Mexican Omelette

jalapeno, bell peppers, onions, sharp cheddar cheese, with tortilla chips and salsa
Egg Sandwiches
Substitute Gluten Free Bread, Bun, or Wrap
Healthy Egg Sandwich

Egg Whites, Spinach, Apple, Avocado, Sprouted Grain Toast, Spring Mix

NJ Sandwich

Taylor Ham, Fried Eggs, American Cheese, Kaiser Roll

Farmers Breakfast Wrap

Eggs, Sausage, Bacon, Ham, Peppers, Onions, American Served with Home Fries

Smoked Salmon Deluxe

Red Onions, Tomatoes, Capers, Olives, Toasted Bagel, Cream Cheese

Bandito Burrito

Scrambled Eggs, Chorizo, Onion, Tomato, Jalapeño, Cheddar Jack, Topped with Ranchero Sauce, Served with Home Fries

Breakfast Sliders

3 buttermilk biscuits with scrambled egg, bacon, and american cheese. Served with french fries
Breakfast Sides
House Made Corned Beef Hash

Turkey Bacon

Goffle Farms Chicken Sausage

Chorizo Mexican Sausage

Beyond Vegan Sausage

Canadian Bacon

Home Fries

Bacon | Sausage | Ham | Taylor Ham
Slide 1 of 3
Slide 2 of 3
Slide 3 of 3
Enjoy our specialty brunch menu every Daily from 8am - 4pm. Featuring our famous mimosas with freshly squeezed orange juice
Download PDF
Wild Shakes
Funfetti Shake

Frosted Glass with Rainbow Sprinkles, Topped with Funfetti Cake, Whipped Cream, a Sour Belt, and a Cake Pop

Flavor: Vanilla Cake Batter

Crazy Oreo

Vanilla Frosted Glass with Oreo Cookies, Topped with a Giant Oreo Cookie Ice Cream Sandwich and Fresh Whipped Cream

Flavor: Vanilla Oreo

Rainbow Shake

Frosted Glass with Rainbow Sprinkles rim with Rainbow Layer Cake, Lollipop, Cereal Marshmallows, Sour Belts, Fresh Whipped Cream

Flavor: Vanilla

Cookie Monster

Frosted Glass with Choco Chip Cookie Crumbles, Topped with Our Cookie Monster Butter Shortbread and Fresh Whipped Cream

Flavor: Blue Vanilla Cookie Dough

Banana & Nutella Shake

Frosted Glass with Chocolate Chips, Topped with Fresh Whipped Cream, Banana Slices, Nutella Chocolate Hazelnut

Flavor: Vanilla Nutella

Cookie Dough

Frosted Glass with Choco Chip Cookie Crumbles, Topped with a Giant Choco Chip Cookie Ice Cream Sandwich and Fresh Whipped Cream

Flavor: Vanilla Cookie Dough

Cheesecake Shake

Frosted Glass with Graham Cracker Crumbs, Topped with NY Cheesecake and Fresh Whipped Cream

Flavor: Vanilla Cheesecake

Brownie Shake

Frosted Glass with Chocolate Chip Rim Topped with Fresh Whipped Cream, and a Nestle Drumstick

Flavor: Black & White Brownie

S'mores Shake

Chocolate Frosted Glass with Chocolate Chips Topped with Toasted Marshmallows, Graham Cracker, Fresh Whipped Cream, and Chocolate Sauce

Flavor: Black & White

Cannoli Shake

Frosted Glass with Chocolate Chips, Topped with a Cannoli and Fresh Whipped Cream

Flavor: Vanilla Cannoli Cream

Pumpkin Cheesecake Wild Shake

Vanilla frosted glass with candy corn and seasonal sprinkles filled with pumpkin spice cheesecake Vanilla milkshake topped with a slice of creamy ny pumpkin cheesecake and fresh whipped cream

Flavor: vanilla pumpkin cheesecake

Reese's Wild Shake

Vanilla frosted glass with peanut butter chips filled with peanut butter vanilla milkshake and Ghirardelli caramel sauce topped with fresh whipped cream and 2 Reese's peanut butter cups

Flavor: Vanilla peanut butter

Cinnamon Bun shake

Vanilla icing rimmed glass with white chocolate chips filled with vanilla caramel ice cream with a hint of cinnamon, topped with a Balthazar bakery cinnamon bun, vanilla icing, fresh whipped cream and caramel drizzle

Flavor: Vanilla Caramel
Wild Hot Chocolates
Salted Caramel Hot Chocolate

Ghiradelli Salted Caramel and Milk Hot Chocolate Topped with Fresh Whipped Cream, Caramel Drizzle, and A Pretzel Stick for That Extra Sweet and Salty Crunch

White Hot Chocolate

Ghirardelli White Hot Chocolate Topped with White Chocolate Chips, Fresh Whipped Cream and A Vanilla Drizzle Served with A Pirouline Chocolate Hazelnut Wafer

Peppermint Hot Chocolate

Hot Chocolate with Peppermint Bark Sauce Topped with Fresh Whipped Cream and Crushed Candy Canes

Ghirardelli Hot Chocolate

Topped with Fresh Whipped Cream and A Pirouline Chocolate Wafer

Nutella Hot Chocolate

Ghirardelli Hot Chocolate Infused with Nutella Sweetened Hazelnut Cocoa Spread

Oreo Hot Chocolate

Ghirardelli Hot Chocolate Infused with Oreo Cookies and Topped with Fresh Whipped Cream

Ultimate Hot Chocolate

Ghirardelli Hot Chocolate Topped with Red Velvet cake, Freshly Toasted Marshmallows, Fresh Whipped Cream, and Nutella Drizzle
Desserts
All Desserts Are Baked in Our in House Bakery!
Oreo Cheesecake

Cannoli Cheesecake

Reese's Cheesecake

Apple Pie

Ala Mode

Rice Pudding

Seven Layer Cake

Carrot Cake

Bourbon Caramel Bread Pudding

Funfetti Cake

Chocolate Fudge Cake

Rainbow Layer Cake
Adult Spiked Shakes
Churro Dreams

vanilla ice cream | Rumchata liquer | Fireball cinnamon whiskey | churros

Nitro Dark Knight

chocolate ice cream | nitro cold brew coffee | Kahlua liquer

Kentucky's Finest

Vanilla Ice Cream | Maker's Mark Bourbon | Ghirardelli Caramel Sauce

Strawbery White Chocolate

strawberry ice cream | Ghirardelli white chocolate | Baileys Irish cream

Freddy's Best

vanilla ice cream | Myers Dark Rum | banana | Ghirardelli caramel sauce | cinnamon

Night Rider

chocolate ice cream | Godiva chocolate liqueur | Kahlua

Gerber Baby

vanilla ice cream | Van Gogh dutch chocolate vodka | Kahlua liquer | Baileys Irish cream | Ghirardelli chocolate sauce
Hot Beverages
Offering illy espresso
illy Espresso

Regular or Decaf

Illy Double Cappucino

Regular or Decaf

Cappuccino

double espresso, foamy steamed milk

Cafe Latte

double espresso, steamed milk

Cafe Mocha

espresso, chocolate, steamed milk, fresh whipped cream

Mighty Leaf Tea

assorted flavors, crafted from the highest quality tea leaves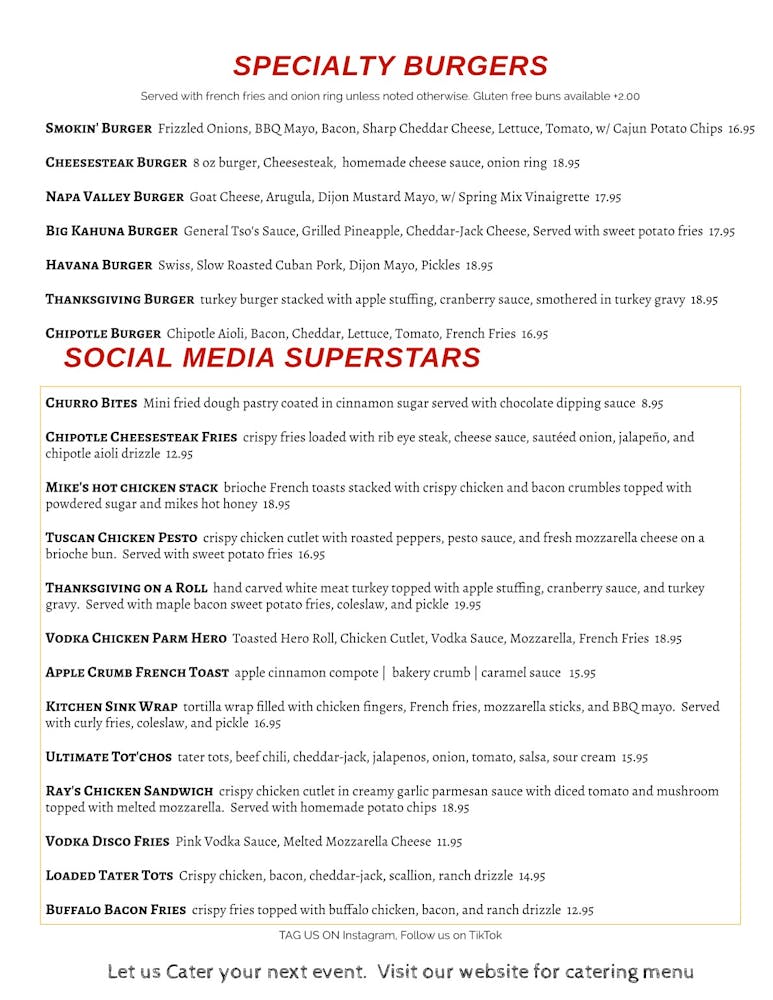 Enjoy our lunch featured week days a week from 11am-4pm. Served with soup and house dessert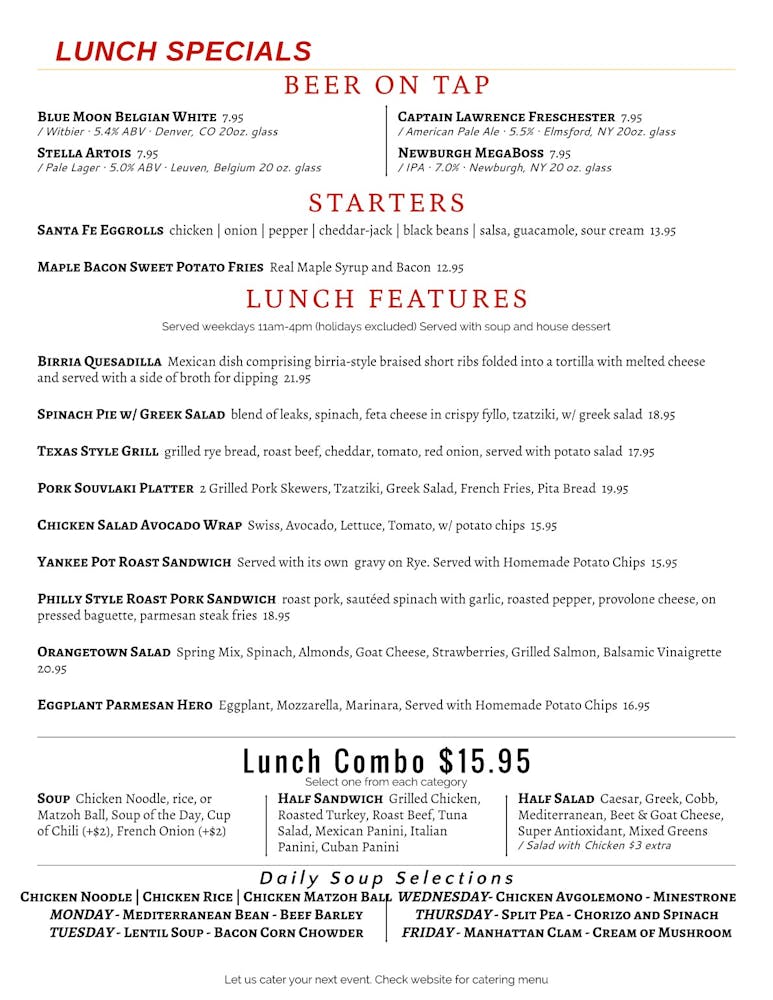 Soup of the day
EVERYDAY: Chicken Matzoh Ball | Chicken Noodle or Rice | Monday-Mediterranean Bean | Tuesday-Lentil Soup | Wednesday-Avgolemono |Thursday-Split Pea | Friday-Manhattan Clam Chowder | Saturday-New England Clam Chowder | Sunday-Cream of Turkey
Enjoy our selection of craft and macro brews on draft, bottles, or cans, as well as wines by the glass.
Download PDF
On Tap
Captain Lawrence Freshchester

American Pale Ale • 5.5% • Elmsford, NY An aromatic beer with notes of citrus, pine, a noticeable bitterness, and a touch of malty backbone to help balance it out

20 oz $7.95

Newburgh Megaboss IPA

IPA • 7% • Newburgh, NY A rich pineapple & tropical fruit aroma, with a flavor profile that very much follows that aromatic start, concluding with a lemon & herbal hop finish.

20oz $7.95

New Belgium Fat Tire

Amber Ale • 5.2% • CO & NC Fat Tire Amber is the easy-drinking Amber Ale, born in Colorado from New Belgium Brewing Company, a certified B-Corp. Visual: Clear, amber and bright with white lacing. Aroma: Sweet biscuity and caramel malts, subtle notes of fresh fennel and green apple.

20oz $7.95

Blue Moon Belgian White

Witbier • 5.4% • Denver, CO A wheat beer brewed with Valencia orange peel for a subtle sweetness and bright, citrus aroma.

20oz $7.95
Bottles
Becks

Premium Lager • 4.8% • Bremen, Germany A classic German lager beer with a distinctive full-bodied taste, fresh "hoppy" bouquet, golden color and full rich head. Adding to its complexity is a slightly fruity but frim crispness and a dry, clean finish.

12oz Bottle $5.95

Bud Light

Pale Lager • 4.2% • St. Louis, MO Bud Light is brewed with a malt and hops ration different from Budweiser for a distinctively crisp taste with fewer calories.

12 oz Bottle $4.95

Budweiser

Pale Lager • 4.2% • St. Louis, MO Brewed using a blend of imported and classic American aroma hops, and a blend of barley malts and rice resulting in unparalleled balance and character.

12 oz Bottle $4.95

Coors Light

Pale Lager • 4.2% • Golden, CO First, aged (lagered) below freezing to give our beer it's crisp taste. Then it's filtered cold so that it gets that brilliant, bright appearance.

12 oz Bottle $4.95

Corona

Pale Lager • 4.6% • Anahuac, Mexico Made with the finest quality blend of filtered water, malted barley, hops, corn and yeast.

12 oz Bottle $5.95

Corona Light

Pale Lager • 4.1% • Anahuac, Mexico A pleasant, fruit-honey malt aroma and distinctive hop flavor, with only 99 calories and 5 grams of carbohydrates. Light, gold color with a refreshing, crisp taste

12 oz Bottle $5.95

Heineken

Pilsner • 5.4% • Netherlands Crisp & smooth Euro Lager

12 oz Bottle $5.95

Kona Big Wave Golden Ale

Blonde Ale • 4.4% • Kailua Kona, HI It shines with its tropical hop aroma & flavor with a balance of sweet lightly roasted honey malt.

12oz Bottle $5.95

Michelob Ultra

Pale Lager • 4.2% • St. Louis, MO low-carb light beer with a taste smooth enough to carry the Michelob brand.

12 oz Bottle $4.95

Modelo Especial

Pale Lager • 4.4% • Anahuac, Mexico Well-balanced taste and light hop character with a crisp, clean finish. Characterized by an orange blossom honey aroma with a hint of herb.

12 oz Bottle $5.95

Mythos

Pale Lager • 5% • Sindos, Greece The most famous Hellenic beer. With the rich head, bright golden colour, and pleasant refreshing taste, Mythos guarantees pleasure in every occasion.

12oz Bottle $5.95

Stella Artois

Pale Lager • 5.2% • Leuven, Belgium Premium European lager of noble traditions that is still brewed using natural ingredients in the same processes of mixing and fermentation used in the old days.

12oz Bottle $5.95

Captain Lawrence Hop Commander

IPA • 6.5% • Elmsford, NY Citra, Bravo and Centennial hops shine in this classic IPA. A biscuit malt base balances hoppy notes of orange, grapefruit and pine with just enough bitterness.

12 oz Bottle $6.25

Goose Island IPA

IPA • 5.9% • Chicago, IL A fruity aroma, set off by a dry malt middle, and long hop finish.

12oz Bottle $6.25

Sam Adam's Boston Lager

Vienna Lager • 5% • Boston, MA Our original beer is full-flavored with a balance of malty sweetness contrasted by hop spiciness and a smooth finish.

12 oz Bottle $5.95

Shock Top Belgian White

Wheat Ale • 5.2% • St. Louis, MO With real orange, lemon and lime peels and then added a little coriander spice to the mix.

12 oz Bottle $5.95

Mike's Hard Black Cherry

Malt Beverage • 5% • Seattle, WA Refreshing taste of dark cherries that are slightly tart, but balanced with just the right sweetness.

12 oz Bottle $5.95

Mikes Hard Lemonade

Malt Beverage • 5% • Seattle, WA

12 oz Bottle $5.95
Cans
Newburgh Cream Ale

Cream Ale • 4.2% • Newburgh, NY Light, easy-drinking traditional interpretation of a New York Cream Ale

16oz Can $7.55

Captain Lawrence Citra Dreams

NE/Hazy IPA • 7% • Elmsford, NY Our year round NEIPA packed with Citra hops, with notes of orange and pineapple. Perfect for any occasion!

16oz Can $7.55

New Belgium VooDoo Ranger Juicy Haze IPA

IPA • 7.5% • CO & NC Packed with bright tropical aromas and brilliant citrusy flavors, this unfiltered IPA wraps up with a pleasantly smooth finish.

12oz Can $6.95

Sam Adams Wicked Hazy

NE/Hazy IPA • 6.8% • Boston, MA A wicked juicy New England IPA with flavors of orange, mango and pineapple

12oz Can $5.95

Shiner Bock

Bock • 4.4% • Shiner, TX This lightly-hopped American-style dark lager always goes down easy. Brewed with rich, roasted barley malt and German specialty hops.

16oz Can $6.95

White Claw Hard Seltzer Black Cherry

Hard Selzer • 5% • Chicago, IL Sparkling rush of 100% pure seltzer water, our BrewPure alcohol & a hint of juicy black cherry is the perfect combination of pure refreshments & subtle ripe flavor.

12oz Can $5.95

White Claw Mango

Hard Selzer • 5% • Chicago, IL White Claw Mango is the perfect blend of seltzer water, the cleanest tasting alcohol base, and a hint of mango.

12 oz Can $5.95

White Claw Natural Lime

Hard Selzer • 5% • Seattle, WA A clean fresh aroma leads to dry and incredibly refreshing taste with just a hint of natural juicy lime notes coming though. A crisp, clean spiked sparkling water, with minimal sweetness and no aftertaste - just a lingering hint of tangy lime.

12 oz Can $5.95
White Wine
Chateau St. Michelle Riesling

12% • Columbia Valley, WA This wine offers crisp apple aromas and flavors with subtle mineral notes.

Glass $8

Cook's Brut

13.5% • Madera, CA Medium-dry with crisp fruit flavors. The aromas of apple and pear are balanced with a bouquets of toasty yeast notes and floral nuances.

187ml Bottle $7.95

Coppola Director's Cut Chardonnay

13.9% • Geyersville, CA A full-bodied Chardonnay bursting with ripe fruit flavor and prominent oak and spice.

Glass $9

Kendall Jackson Sauvignon Blanc

13.5% • Santa Rosa, CA This wine is light bodied with distinguished flavors of vibrant lime, tangerine and passion fruit. Pairs exceptionally well with a wide variety of dishes, great times and good friends.

Glass $9

Ruffino Lumina Pinto Grigio

12% • Veneto, Italy Medium-bodied, lively and clean, this is a well-balanced wine with crisp acidity and a satisfying finish.

Glass $8

Sutter Home White Zinfindel

13% • St. Helena, CA Perfect with all types of food, we recommend pairing it with something a little spicy such as Asian or Latin cuisine.

Glass $8
Red Wine
Coppola Cabernet Sauvignon

13.5% • Geyersville, CA Playfully deep ruby with some legs. Nose is a cedar cigar box dark fruit finish and some earth. Fruit forward more going on that expected light finish.

Glass $9

Francis Coppola Diamond Blue Label Merlot

13.5% • Geyserville, CA The flavors and textures unique to each region harmonize perfectly to create a wine that has dark succulent fruit balanced by natural acidity.

Glass $9

Kendall Jackson Estate Pinot Noir

14.5% • Santa Rosa, CA Rich flavors of blueberries, black cherries, cola and dusty spices. The tannins are silky, while oak barrel aging brings a smoky, sandalwood note.

Glass $9

Padrillos Malbec 2013

12.5% • Sonoma, CA Ripe, concentrated dark fruit aromas with hints of chocolate, black cherry and red currant fruit flavors with notes of sweet spices, soft, supple tannins.

Glass $9
We use free-roaming, all natural chicken & cage free farm fresh eggs Goffle Road Poultry Farm.
Kids Menu
Scrambled Eggs & 2 Bacon

Served with crispy fries and toast

Pancakes or French Toast

with 2 bacon and syrup

Grilled Cheese

melted American Cheese on White Bread. Served with Fries

Chicken Tenders

Crispy Fries & Honey Mustard

Classic Diner Burger

with or without cheese, served with french fries

Kid's Pizza

Brick oven pizza with mozzarella cheese and marinara sauce

Kid's Turkey Meal

carved turkey, mixed vegetables, mashed potato, turkey gravy
For little one's 10 and under. Served with choice of milk, chocolate milk, apple juice, or soda.
Linguini w/ Meatballs

with Marinara Sauce

Fish & Chips

Crispy Fish & French Fries

Grilled Chicken Pasta

grilled Chicken, Penne & Broccoli

Lil Mac

House made macaroni and cheese

Cheese Ravioli

with Marinara Sauce

Hot Dog

with French Fries